I'm Dan Lyke. In 2012, after over a decade of trying to get me to dance with her, my wife Charlene dragged me to a barn dance. When I said "that wasn't so bad", she said "great, I've signed us up for square dance lessons".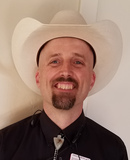 Now when I'm not dancing, I'm the club caller for the Vallejo Pioneers, and fill in for various other slots throughout the San Francisco Bay Area. I call Modern Western Square Dancing through Advanced, and though I love calling Mainstream and Plus, I'd like to be working more on ways to get absolutely new dancers dancing and having fun.
And we're hoping to have a drop-in square dance group in Petaluma California running soon.
Modern square dancing is a complex and intricate dance form. It's collaborative puzzle solving and thinking on your feet and, yes, moving and dancing, exercising body and brain in a fun social environment. Some examples:
Resources