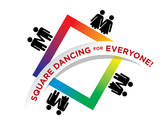 Weekly Square Dancing in Petaluma! Come on down to the Hermann Sons Hall on Thursday evenings at 7:30! More info.
I'm Dan Lyke. In 2012, after over a decade of trying to get me to dance with her, my wife Charlene dragged me to a barn dance. When I said "that wasn't so bad", she said "great, I've signed us up for square dance lessons".
Now when I'm not dancing, I'm the club caller for the Vallejo Pioneers, have a weekly beginner group in Petaluma and fill in for various other slots throughout the San Francisco Bay Area. I call Modern Western Square Dancing through Advanced, and though I love calling Mainstream and Plus, I'd like to be working more on ways to get absolutely new dancers dancing and having fun.
"group theory performed as a team sport, set to music." — Ginda Fisher of MIT Tech Squares *
Modern square dancing is a complex and intricate dance form. It's collaborative puzzle solving and thinking on your feet and, yes, moving and dancing, exercising body and brain in a fun social environment. Some examples:
Resources
Taminations (also available as an app for your favorite mobile device)
Rich Reel's All8.com has a fantastic amount of material.
* Barry Clasper's How May I Help, some notes on angeling square dancing.